My country the Philippines had just been through two devastating typhoons that came almost within the same week. Typhoons Pedring and Quiel hit provinces in the Luzon island of the Philippines. Many people are now in evacuation centers as they lost their homes, or their homes (and their villages) are still submerged in floodwaters.
Various groups are mobilizing rescue and relief operations. Many groups are asking for and accepting donations for various necessities to be sent to the affected families. One such group is the Philippine Daily Inquirer, the Philippines's leading newspaper, which announced just today that it is accepting donations for flood victims at its office in Makati City, Philippines.
The Inquirer will be accepting donations for canned goods, noodles, rice, water and medicines at its office in 1098 Chino Roces Ave., corner Yague and Mascado Streets, Makati City, Philippines. Inquiries can be directed to the Inquirer's corporate affairs office, (632) 899-4426 or (632) 897-8808 (look for Connie Kalagayan or Bianca Kasilag).
UPDATE as of Oct. 3, 2011: For cash donations, please deposit to Inquirer Help Fund Current Account No. 4951-0067-56 Philippine Daily Inquirer Inc. with Bank of the Philippine Islands (BPI), Intramuros, Manila, Philippines; or Corporate Network for Disaster Response, Account No. 0031-0654-02 (BPI) or 004640030358 (Banco de Oro).
http://newsinfo.inquirer.net/69229/inquirer-relief-drive
Residents use boat to navigate a flooded street in Calumpit, Bulacan, Philippines due to typhoon
Pedring. Photo by ARNOLD ALMACEN/Inquirer. From inquirer.net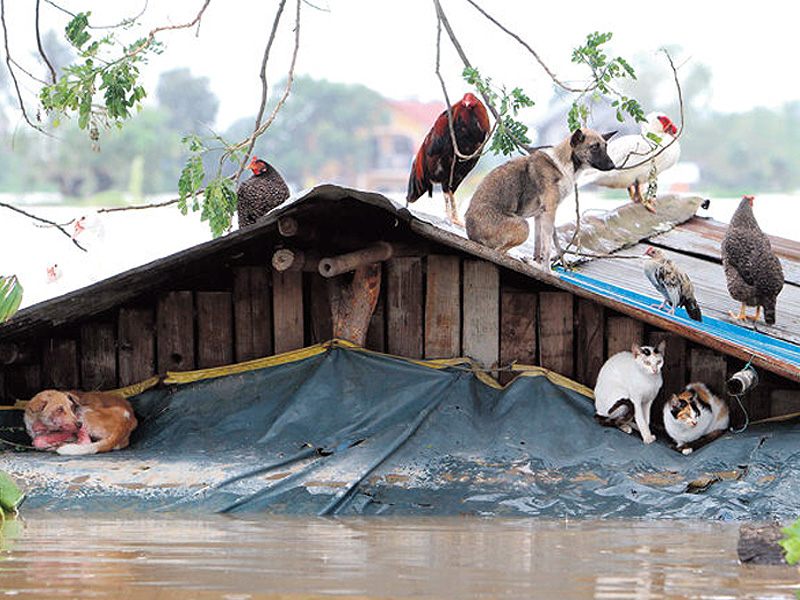 The rooftop serves as veritable Noah's Ark of a few animals—cats, dogs, chickens,
ducks and a pigeon—after the owners abandoned the submerged house in Gugo
village, Calumpit, Bulacan, in the Philippines. Unfortunately, rescue workers
could only evacuate humans. Photo by LYN RILLON. From inquirer.net